UPDATE 2: OxyELITE Pro has been discontinued by the manufacturer, USP Labs.
UPDATE 1: A recent health fraud alert from the U.S. FDA is warning cutomers to avoid purchasing this product as it contaminated with a prescription drug called, "fluoxetine." Fluoxetine is an SSRI normally used for treating depressions, panic disorders and other similar maladies. For complete details on the warning, visit the FDA web site!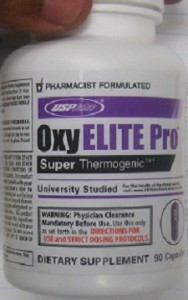 Reviewing USP Labs' products are a little more fun to review than the standard fare we usually encounter here at UltimateFatBurner.com. Of course, that doesn't mean their products—like the new OxyELITE Pro™ that we're looking at today—are dramatically more effective than those produced by their competitors. It does mean, at least, that they don't sleep-walk through the process of formulating their products, or copy someone else's compilation.
In the past, we've looked at USP's Recreate fat burner and their pre workout supplement "Jacked" (which Elissa really liked). In fact, one of the advertising claims for OxyElite Pro is that it's…
"It's like Jacked in a pill with crazy fat burning!"
This is likely attributable to its DMAA content, but let's leave that for a minute. One of the things I found most interesting about this product was the "scientifically reviewed" featured so prominently in big letters on the label. I wonder if someone could explain to me what this means, exactly?
This product certainly hasn't been "scientifically reviewed" by a panel of third party experts, nor has any peer-reviewed study been performed and published on it. As far as I can figure it, "scientifically reviewed" is meaningless marketing gibberish.
Getting to the ingredients now, the OxyElite formula looks a little tepid at first glance, with a single dose / capsule containing a mere 219.5 mg of them.
Don't be fooled though, this product likely packs one heck of a wallop.
Here's what you'll find in each capsule…
1. Caffeine: A popular alkaloid and central nervous system stimulant found in coffee, tea, cola nuts, guarana and yerba mate.
Caffeine, of course, has mild thermogenic effects and can enhance exercise performance.
It also cheaply and effectively addresses the #1 complaint of any dieter—fatigue.
2. Bauhinia purpurea: A medium-sized, deciduous, fast growing shrub common to south China and Asia. It's Included in this formula on the basis of animal data (see here) that suggests Bauhinia supports thyroid hormone levels. No studies have been performed to confirm similar effects in humans. Unlike the next ingredient I'll discuss, however, studies were performed which a much lower dosage, meaning it is possible there is enough Bauhina present here to potentially offer benefits, should they be applicable.
3. Bacopa Monniera: Typically used to enhance focus and concentration. It is also included for its supposed thyroid regulating effects, based entirely on animal data (see J Ethnopharmacol. 2002 Jul;81(2):281-5).
Again, no studies have been performed to confirm a similar effect in humans. In fact, if you check the reference, you'll see the mice in the study were receiving a 200 mg/kg dosage, which means a human being would certainly need a HUGE dosage to duplicate the results, should they be applicable.
Obviously, the amount included in this formula is not going to have any effect on stabilizing thyroid levels—heck, there's not even enough here to support focus/concentration which usually requires a dose of about 300 mg.
4. 1,3-Dimethylamylamine: This compound is also known as "methylhexaneamine." 1,3-Dimethylamylamine (DMAA), is an adrenergic amine that acts as a CNS stimulant.
It was originally patented by Eli Lilly as a nasal decongestant in 1944, but largely abandoned until re-introduced as a dietary supplement (Geranamine™) by Proviant Technologies, the parent company of Ergopharm.
Although there's no current research on it, DMAA's gotten mostly rave reviews from users for its effects on mood, focus and energy. A few have reported problems with higher doses, however, so some caution is advised.
USP's OxyElite Pro is not the first weight loss product to contain DMMA. Ergolean's AMP (and now AMP 2) contains it, and garnered a fair bit of mainstream negative publicity, with one expert calling the legality of DMAA into question and saying…
"The chemical structure is similar to amphetamines and ephedrine…"
Having experimented with a DMAA-based pre-workout supplement myself (Nutrex's HemoRage) I can testify to the potency of DMAA for getting you "jacked."
5. Cirsium oligophyllum: According to the OxyElite advertising…
"Our use of this plant is based upon an animal study which had suggested that compared to a control group, the extract was able to reduce the gain of bodyweight and fat mass and specifically seemed to target subcutaneous fat mass over that of visceral fat mass with a ratio favoring the reduction of subcutaneous fat mass over that of visceral!"
Just so you know, the study they are discussing is this one: Int J Biol Sci 2009;5(4):311-318. Same problem however; no data exists to confirm similar effects and appropriate dosage in humans. Its value here is speculative at best.
6. Rauwolscine: Also known as α-yohimbine or corynanthidine, this is a yohimbine alkaloid included in this formula for its ability to act as an alpha 2-adrenoceptor antagonist. According to USP Labs, it is much more effective than yohimbe as a weight loss agent. Again, it all makes sense in theory, but there's no good clinical data to draw on to confirm their conclusions.
So at the end of the day, what have you got?
Very little in the way of proven weight loss ingredients.
As you can plainly see, many of the most "cutting edge" ingredients are under-dosed, and included on the basis of positive animal studies (the results of which may or may not be applicable to humans).
Since no human-based data exists for these ingredients, their touted effects are speculative at best.
Of course, that does not mean OxyELITE Pro won't kick you smack-dab in the seat of your pants. There's no doubt the combination of caffeine, DMAA and rauwolscine will get you seriously wired.
If you're the sort of person who has a high tolerance for stimulants and likes to take fat burners for the jolt of energy they provide, you probably won't go wrong with this product—it's available online from BodyBuilding.com, our recommended online retailer. Just don't expect the sort of fat burning results that are promised in the advertising.
If you are interested in experimenting, my recommendation is that you do your best to get your hands on a sample or two of any DMAA-based supplement to try first (even a pre-workout supplement like Nutrex's HemoRage or USP Lab's Jacked will work). You might not like the DMAA experience. It can be pretty intense.
As I said earlier, I got one heck of a blast from the DMAA in HemoRage—and while it got me pretty "revved" up for my workout, it's not a feeling I would like to repeat on a daily basis. That feeling is a bit difficult to describe; like being wired on caffeine or ephedrine but without the jitters. The jitters are happening alright… just on the inside. A bit weird. And a bit un-nerving.
Also… a word to the wise—don't exceed the recommended dosage. DMAA can be pretty potent stuff, and depending on how much is included in this formula, may really get you wired. And if you are…
New to stimulant-based fat burners.
Sensitive to caffeine and other stimulants.
Suffering from an underlying disorder, such as heart disease and high blood pressure.
… you should not experiment with this product.