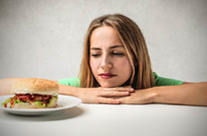 Hydroxycut® Max is a fat burner designed specifically for women.
It claims to radically amplify a woman's key fat burning hormone, burning calories and body fat "fast." This, in addition to a "unique blend of 25 different ingredients to create the world's most extreme female fat burner."
This all delivered in "rapid-release liquid-caps that dissolve up to 5 times faster than regular tablets."
Hot DAMN!
Where can I get me some of this stuff?
What About Clinical Data?
Good question!
There is a clinical study referenced to validate the Hydroxycut Max advertising claims.
According to the Muscle Tech advertising…
"In one 6-week clinical study, subjects using the key ingredient in Hydroxycut® Max! (Cissus quadrangularis) lost, on average, 10.56 lbs., while the placebo group actually gained an average of 2.64 lbs."
Ok. Let's back up a moment and have a closer look at this formula.
Is there anything here to substantiate the hype?
Well, let's first look at the ingredient referenced in the clinical study, Cissus quadrangularis.
The good news is that a couple of clinical studies seem to validate this ingredient's effectiveness for weight loss.
It also appears to be helpful for lowering blood sugar levels, decreasing serum lipids and "improving cardiovascular risk factors." (See Lipids Health Dis. 2007 Feb 4;6:4, Lipids Health Dis. 2006 Sep 2;5:24.).
Let's Get the Bullshit Detector Out
There are a couple of serious "downsides" to these positive studies though.
First, the Hydroxycut Max is a proprietary blend of ingredients.
So we can't be sure if a daily dose contains the 300 mg of the Cissus quadrangularis extract found to be helpful in the studies they use to hype the living shit out of it.
On the Hydroxycut Max web site, the advertising states that "key ingredients in the formula are at the precise amounts that have been proven effective in research studies."
Whether that is actually the case or not, and whether or not Cissus quadrangularis is considered a "key" ingredient, only a trip to the lab can confirm for sure.
Conflict of Interest
Additionally, the lead author of these studies, Julius E Oben, has a patent on Cissus quadrangularis as a fat loss agent.
While this doesn't necessarily mean that the results of these studies are not legitimate, it certainly calls their "objectivity" into question.
In other words, when the person who has the most to gain from a positive study result is same person conducting the study, it pays to be skeptical.
Super skeptical.
There certainly appears to be a conflict of interest here.
And to make matters worse, there are no independently conducted studies that support these conclusions.
Whoops.
So what about the other ingredients in this formula?
The first distinct element of this formula is called Max! Liqui-Burn™. It's a proprietary blend of ingredients — 818 mg strong — consisting of..
A blend of green, black, wu-long and rooibos teas standardized for catechins, ECGC and polyphenols: Any fat burner worth its salt these days should contain green tea. It's a fantastic "no-brainer" ingredient that shows some real promise for weight loss (see the full review for clarification).
The other teas add value too — especially wu long tea, which also has a a small body of clinical evidence validating its effectiveness (see the wu long review for more details). Rooibos tea contains polyphenols, but it's a little different as it's not a true tea, but instead is derived from a plant native to South Africa. For more about Rooibos tea, please see this web site!
Caffeine: There is 300 mg of caffeine in a 3-cap serving of Hydroxycut Max — the equivalent to 3 cups of coffee. Caffeine's benefit as a thermogenic (fat burner) is well documented (see Am J Clin Nutr. 1989 Jan;49(1):44-50, Am J Clin Nutr. 1980 May;33(5):989-97), and some evidence indicates that when combined with green tea, it elicits even greater fat burning effects (see Obes Res. 2005 Jul;13(7):1195-204).
If you're sensitive to caffeine, you'll definitely want to reduce the dosage to a single capsule to assess your tolerance to this product.
Two servings a day will see your caffeine intake from this product soar well over the 600 mg mark (when you factor in the caffeine naturally occurring in the tea also present in this formula).
That's a pretty significant amount.
Yohimbine HCL (4.5 mg): The standardized extract of the bark of the African Yohimbe tree, this compound is often used as a natural aphrodisiac.
It is also sold as a drug (in the U.S., a popular brand is Yohimex containing 5.4 milligram of yohimbine hydrochloride per tablet) and is used to treat impotency, dilate the pupil of the eye, and stimulate fat loss.
Because it can cause unpredictable effects on blood pressure, Yohimbe should be approached with caution.
A few studies bear out Yohimbe's positive effect on weight loss (Isr J Med Sci. 1991 Oct;27(10):550-6) but its effects are hardly earth-shattering. Evidence also validates its "lipid-mobilizing action."
Xanthinol Nicotinate: a super-potent form of niacin (vitamin B3) it has been shown to improve short term memory, improve brain ATP levels and brain glucose metabolism.
The Max! Weight Loss Matrix
The second element of this formula is called the Max! Weight Loss Matrix™. This part of the formula is much smaller, containing a mere 274 mg of ingredients.
It is this "Max! Weight Loss Matrix™" that contains the Cissus quadrangularis mentioned earlier plus 16 other ingredients (a couple of which could theoretically qualify as being "female" orientated).
Earlier I mentioned that it was difficult to determine whether or not the Hydroxycut Max formula contained the 300 mg of the Cissus quadrangularis extract found to be helpful in the studies.
I also indicated that advertising seemed to indicate that it might — "key ingredients in the formula are at the precise amounts that have been proven effective in research studies."
Label Dressing & More!
The problem is that if this formula does contain the required amount of Cissus, that only leaves a piddling 248 mg worth of the remaining 16 ingredients (which includes soy isoflavones, rose hips powder, hibiscus extract, garcinia cambogia, l-lysine, juniper powder, dandelion root, mangosteen extract, chasteberry extract, raspberry extract and a few others).
What this means, frankly, is that the remaining blend of items are present in such a tiny dosage as to elicit no effect whatsoever. They are there as "label dressing" and nothing more. It also means the whole "designed for women" marketing slant is bogus too, as there's nothing in the remainder of this product that differs substantially from any unisex product on the market.
Recommendation; Is Hydroxycut Worth the Money?
Of course, that doesn't mean this product is without value — to men or women.
The Max! Liqui-Burn™ blend of teas, caffeine and yohimbine is a potent one, and probably as good as anything available on the market today — although it's a bit strong (start with a single pill twice daily to assess your tolerance).
But it's that element of the formula that provides the most value. The Max! Weight Loss Matrix™ really only offers the Cissus — which may indeed provide benefits too, should the clinical trials be accurate.
Even our intrepid staff reviewer Elissa had something positive to say about the Hydroxycut Max formula…
I do have to give Muscle Tech a bit of credit here…"designed for women" usually means "watered down and just as expensive." This product appears to pack some heat.
Bottom line?
Advertising for the entire line of Hydroxycut fat burners tends to be a bit exaggerated. But I've found that despite this, most people tend to be happy with the Hydroxycut brand products — simply because — despite the hype — they are quality compilations that do deliver some results.