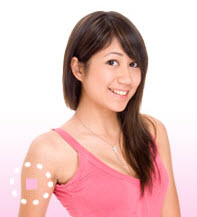 According to the promotional material at BuyZvelt.com…
"Zvelt® is an easy to use weight loss patch that helps you effortlessly lose weight."
And that`s just the start. Other claims include that Zvelt…
Boosts metabolism.
Stimulates body's fat burning power.
Increases energy.
Helps reduce cravings.
Decreases appetite.
Is naturally sourced.
Of course, that's without a "crazy" diet or exercise plan, too (because all diet plans are "crazy" of course).
It all sounds great until you start considering the problems…
1) There is no clinical evidence that shows diet patches are the slightest bit effective for weight loss.
2) Delivering ingredients transdermally (through the skin) is a lot more complex a process than delivering them orally. There's no data to demonstrate Zvelt can deliver effective doses of the various ingredients through the skin via a patch.
3) The FTC has fined other diet patch manufactures in the past for making false and unsubstantiated claims.
4) Although the ingredients included in Zvelt are revealed the dosages are not. This is important because regardless how effective they may or may not be, it doesn't matter a hill of beans if they are not included at optimal doses. Herbal ingredients are much like drugs and pharmaceticals – adherance to certain doses and standardizations are necessary for efficacy. Otherwise, they consitute label dressing only (i.e., they make the product appear effective and potent, but in reality are not present in a dose strong enough to cause any effect).
5) The Electronic Retailing Self-Regulation Program (ERSP) –  a service of the advertising industry and Council of the Better Business Bureau – has recommended the makers of Zvelt (Progenum International, LLC) modify or discontinue certain claims for this product. Obviously, they had problems with them.
6) At the time of this writing, the makers of Zvelt are offering a free 2-week trial of their product. If you take them up on it, you will be added to an auto-delivery program. That means you will automatically receive a fresh supply of product every month. The first month's supply is processed 10 days after the free trial is shipped – which means you will be added to the auto-delivery program before you have had the opportunity to complete your evaluation.
This is underhanded. While this is made clear on the ordering page, this doesn't resonate with people because it's natural to assume you get to finish the trial period of the product before you make the decision on whether to continue purchase more.
[nsu-form]
We really don't like free trial offers. They are less about good faith demonstrations of a product's efficacy, and more about roping consumers into auto-ship programs that are impossible to opt out. While we haven't received any feedback from Zvelt buyers to suggest Progenum International, LLC is doing anything underhanded, in our experience most retailers using auto-delivery programs make them almost impossible to cancel. Sure, they all say it's easy, but in reality, it almost never is.
7) Ingredient profile is un-spectacular:
Cosmoperine™: Although it "sounds" like a weight loss supplement used by the readers of a popular fashion magazine, this is a proprietary black pepper extract that has been proven to improve the bio-availability of certain supplements (i.e., your body's ability to effectively use)… when taken orally. There's no such data for transdermal applications. And no weight loss value.
Guarana. A source of caffeine. Yawn. A stimulant and a mild thermogenic, caffinie has been the "go to" ingredient for OTC fat burners since they ever graced a grocery store shelf. It may give you a slight energy boost and raise your metabolism ever so slightly, but it's no weight loss miracle. See more about guarana and caffeine here!
Forslean™: If you check out our full review, you'll see there's a small amount of evidence Forslean™ helps with weight loss… when taken at a 500 mg dose per day standardized for 10% forskolin. Does Zvelt contain that much? Is it effectively delivered through the skin? Who knows. Such "trivialties" are not revealed. Suffice to say that I feel confident in saying that I highly doubt it.
Chromatemate™: A patented form of chromium polynicotinate. According to the Zvelt patch web site, "chromium helps the body burn calories, promotes fat and weight loss and preserves lean tissues." Once again, it won't surprise you to learn that these effects are grossly exaggerated.
At the end of the day, is there any reason to justify an experiment with the Zvelt diet and weight loss patch?
Not that I can see.