Our Recommendation: Glucomannan (the sole ingredient in Lipozene) is worth experimenting with, but there are less expensive and/or more reliable sources of it than Lipozene. You can buy almost two month's worth for about $12 – see link below.
Here's the "Quick and Dirty" Low Down on this Product (click each item for more details):
[feather_share]
Share this post or join the discussion below!
Lipozene, a product produced/distributed by Obesity Research Institute LLC, offers the usual… weight loss without a whole lot of work.
Lipozene is also as an "As Seen On TV" product. I've written about this many times, but the biggest "scam" weight loss products are the ones sold via radio and TV advertisements.
That's because it's the easiest way for manufacturers to isolate themselves from the consumer and avoid accountability for their products (and wait until you see what our visitors have had to say about this product!)
Additionally, these are the products for which I receive the most complaints about deceptive billing practices. If you'd like to learn more about this issue, please review this article!
What's in Lipozene?
Lipozene contains only one ingredient: glucomannan
Glucomannan is an unabsorbable polysaccharide derived from the konjac root.
Several clinical studies validate glucomannan's ability to lower LDL cholesterol and blood lipid levels, as well as blood sugar levels (see J Am Coll Nutr. 2003 Feb;22(1):36-42, Diabetes Care. 2000 Jan;23(1):9-14., Nutr Metab Cardiovasc Dis. 2005 Jun;15(3):174-80, Diabetes Care. 1999 Jun;22(6):913-9.
In addition to its health benefits…
There is some evidence that glucomannan can assist with weight loss
According to one study, (see Int J Obes. 1984;8(4):289-93) 1 gram of glucomannan, taken with 8 oz. of water one hour prior to meals, has a significant influence on weight loss (one study showed almost 6 pounds of fat lost in two months—with no changes in eating habits).
Another study, in which subjects were given a slightly larger amount of glucomannan (4 grams per day), also reported positive results for weight loss.
Bottom line?
Glucomannan is both an interesting and a promising supplement for weight loss (see the complete glucomannan review here!), but it is basically a fiber supplement.
Don't get me wrong; adding fiber to your diet is not only a great way to lose weight, improve regularity and even lower cholesterol levels.
Nancy Howarth, a nutritionist from Tuft's University in Boston, suggests people who add an extra 14 grams per day to their diet could expect to lose 4 pounds and decrease food intake by 10% in 4 months.
Basically, fiber fills you up faster, and keeps you feeling full longer.
Best of all, adding fiber to your diet is actually quite easy to do, since the typical low quality North American diet does not contain nearly enough fiber.
The average North American consumes 15 grams of fiber daily — 10 grams less than the minimum recommended amount of 25 grams. Adding fiber to your diet is probably one of the most cost effective ways to improve your diet and overall health.
Here is a tip to help you benefit from the weight loss benefits of fiber…

10 minutes before each of your main meals, have a glass of water with a serving of an easy-to-use pysillium fiber — like Metamucil. The orange flavored stuff tastes fine, and it's not gritty… don't believe the competitor's advertising. This will fill you up prior to your meal, allowing you to eat less and feel full longer. It will also slow the release of blood sugar, reducing the chances you'll feel the need to snack on sweets and salty snacks.
So you should you try Lipozene?
Unfortunately, the maker of Lipozene, Obesity Research Institute, has been the target of consumer complaints and Federal Trade Commission action
They've been charged by the Federal Trade Commission for making false and unsubstantiated claims and forced to pay $1.5 million in customer redress. This is for the products Propolene and Fiberslim, both of which are based upon the ingredient glucomannan. This doesn't bode well for Lipozene.
If you'd like to review the Federal Trade Commission press release for this action, please click here!
Additionally, we've received a LOT of complaints from visitors about the deceptive billing practices and non-existent customer service provided by whomever retails this product online (click here to get started reading visitor feedback!).
So let's just say that this company hasn't earned my trust…
Beyond that, fiber supplements like glucomannan aren't weight loss miracles. Fiber is useful, but its effects are subtle and are best seen over the long term. It's both cheap and easy to add fiber to your diet without expensive supplements like Lipozene. For example, you could add a serving of high-fiber cereal to your diet each day, and replace some of the high starch carbs in your diet with high-fiber fruits and vegetables.
Special note: My favorite high-fibre cereal is Kellogg's All Bran Buds. It contains 12 grams of fibre per 1/3 cup serving– 3.5 grams of that coming from psyllium fibre. It actually tastes pretty good. I'd highly recommend measuring your portions — at least to start. This stuff contains SO much fibre, you don't want to eat too much of it, or you'll be in for a surprise! (i.e. don't stray too far from a washroom!).
On the other hand, clinical evidence indicates glucomannan appears to be helpful for those trying to lose weight. And, if purchased in isolation from a reputable retailer, it is cheap enough to warrant an experiment!
Where to Buy?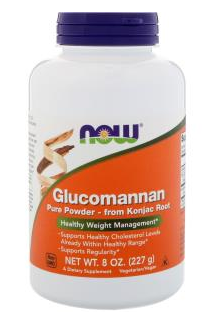 Fortunately, inexpensive, generic glucomannan supplements are also readily available from reliable retailers.
Your absolute best bargain is to buy the powdered supplement, mix it with water and drink prior to meals.
Some people sprinkle it over their meals.
For example, the product featured to the left contains about 114 servings, or enough for 57 days. All for $12, or just a tad over $6 per month.
Not too bad.
At that price, it might be worth experimenting with—especially for the "convenience factor"—but that has to be your call.
Just don't spend big dollars on Lipozene or their marketing hype… there's no reason to do so.
More user feedback can be found here!
Thinking of Buying Lipozene? Read the Reviews First…
We're lucky to have a ton of people leave their personal lipozene reviews with us… and many of them were not too happy. To read them, just scroll down this page… you'll find them a little farther down.