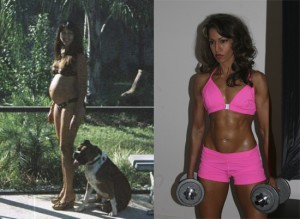 Hi, I'm Sumi Singh. I have written a few articles for UltimateFatBurner.com on weight training and exercising while pregnant, and on the importance of weight training post-pregnancy. These articles were meant to inspire and motivate moms to maintain the healthiest, strongest body while pregnant and post baby.
And now, I've produced a book and DVD that can help you lose that baby weight for good.
It's called "Stay at Home Strong" and it's a great program that's simple and effective, and it details the exact same steps I used to get back into shape after the birth of my daughter, Shaila (yes, that's me, before and after).
Perhaps you're a new mom or maybe a mommy of two or more, and you're ready to drop a few pounds, and get back in your pre-pregnancy clothes.
Or maybe you just want to get in the best shape of your life.
Congratulations on finally making you a priority!
The journey to reach your fitness goals is not a selfish one because a stronger mom is a better mom.
As a working mom, I don't have endless hours to waste on time-consuming and exhausting workouts. That's why I take out all the guesswork for you, so you can get right to work.
What is the Stay at Home Strong weight loss program?
A 12-week post-pregnancy weight loss program to help you burn the baby fat and build lean sexy muscle. Ideal for post-partum moms, stay at home moms, or any mom short on time. A guided, step-by-step program that will help you achieve the same results that I did, and help you eliminate the many mommy excuses for being unable to achieve weight loss after your pregnancy.
A complete program of exercise and nutrition requiring minimal, inexpensive equipment (or none at all) and little time investment
What do you get with your purchase?
Simple guidelines for strength training and cardiovascular activity,
Pictures and videos for the exercises you can complete in the privacy of your own home,
Pull-out fat loss meal programs and simple recipes for busy moms.
Worksheets for goal-setting and compliance, as well as workout logs and a measurement tracker.
From start to finish, I take you through the many challenges that new moms and busy moms face when starting an exercise and post pregnancy weight loss program, and help you find ways to defeat the excuses and take on the challenges head on.
From fat loss meal programs to easy recipes, to dealing with birthday parties, holidays parties, travel, and other diet "saboteurs", this book will compel you to make the choices that help you towards your goal.
What are YOU waiting for? Order now and start getting your body back today!