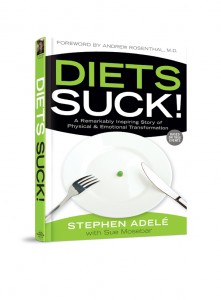 I've reviewed a lot of diet programs over the years here at UltimateFatBurner.com. Some are good, some are not so good, some are based on sound science, and others are based on little more than whimsical nonsense. Regardless of how well the various programs work (or don't), or how easy their protocols are to adhere to, they all have several fundamental components in common.
Most programs…
Require you to restrict calories.
Require a fairly dramatic departure from your regular routine.
Are not practical or sustainable in the long term.
Require a fairly rigorous exercise component.
And most importantly…
Do not address the root emotional issues that prevent the most chronic of dieters from being successful in their quest to lose weight.
Where am I going with this? Well…
Almost every diet publication on the planet offers some value to their respective audiences. Mostly, however, this value comes from the education provided; education about how to eat properly, how different macronutrients (i.e., carbohydrates, fats, proteins, etc.) cause different hormonal reactions within the body and so on. Being educated about food, calories, your metabolism, your basic caloric requirements – all of these are critical to success. Without this information, you will never reach your goals.
So yeah… most diets cover these bases fairly well.
However, where these diets suck is when it comes to addressing the emotional and psychological issues that prevent weight loss.
In other words, they provide a road map to weight loss, all the while assuming you are in the correct mental and emotional state to undertake such a journey.
That's a faulty assumption.
Would you go on a weekend hiking trip without doing a thorough assessment of what was required for the journey?
Of course not.
So why would you embark on a 3, 6, or even 9 month weight loss journey without doing a thorough assessment of yourself, first? Without making sure you're ready to succeed.
And that's where "Diets Suck!", an inspirational new book by Stephen Adele, president of Isatori technologies, steps in.
It's a powerful story of inspiration and empowerment, about physical and emotional transformation, based on the very real stories of very real people.
And although it will empower you to lose weight, this is not a diet book. You won't pages of recipes here. Instead, you'll find 7 life changing lessons, wrapped within a powerful, page turning story of one woman's journey. These include…
Find a Support System.
Know Your Why.
Set a Smart Goal.
Accept Yourself.
Look inward.
Get Moving (And Stay Moving).
Make a Commitment
Consider these the fundamentals. The ground work needed before you begin. To ensure a successful journey. Successful weight loss.
The author Stephen Adele – whom I consider a friend – is a guy with instant credibility. He walks the walk and talks the talk. As president of iSatori Technologies, he's spurred the transformations of thousands of individuals over the years. "Diets Suck!" isn't some "ivory tower feel good nonsense" spouted by some guy who has made a couple of high profile T.V. appearances, but never actually helped anyone. It's about someone who knows – through years of experience – the real barriers to weight loss success.
So who would be best served by this publication?
While "Diets Suck!" is a great publication for almost anyone with a few pounds to lose, it's especially valuable for those who have a history of yo-yo dieting and has never been able to make any changes "stick" – lose a few pounds here, gain them (plus a few more) back again. And so on. Wash. Rinse. Repeat.
Even better, proceeds of the sale of this book (in the form of Isatori's Eat-Smart nutrition bars) will be donated to Feeding America's "backpack program", which helps feed hungry kids in the U.S.
That's what I call WIN-WIN!
Need a slightly different jump start to get your 2014 resolutions back on the right track?
This may be exactly what the doctor ordered!
This hardcover publication can be ordered directly from Amazon.com and is highly recommended!