Boswellia For Arthritis, Plus Benefits and Side Effects
What is Boswellia?
Boswellia (Boswellia serrata) is a branching tree that is native to India. It grows in dry, hilly regions of the country and produces a resin that can be extracted and purified for medicinal purposes.
This resin, known as "Indian Frankincense" or "salai guggal," is used in Ayurvedic medicine to treat a diverse range of conditions.
Natural Arthritis Remedy?
Boswellia extract is best known as an alternative treatment for arthritis. The active ingredients (collectively known as boswellic acids), have been shown to reduce inflammation in in-vitro and animal studies.
Research on human subjects also suggests that Boswellia extract may be beneficial for inflammatory bowel disease, asthma and arthritis, although its superiority to conventional drug treatments has not been fully assessed.
Anti-Inflammatory Action
Boswellia preparations can be used topically or taken internally as anti-inflammatory agents, much like NSAIDs (non-steroidal anti-inflammatory drugs) such as aspirin and ibuprofen. Unlike these agents, however, Boswellia extract can be used for significant periods of time without causing stomach upset.
Therapeutic Effects
In addition to its anti-inflammatory properties, Boswellia extract has been given "orphan drug" status in Europe for the treatment of peritumoral brain edema. Here in the US, clinical trials are underway to evaluate its use for this purpose.
A recent animal experiment also raised the possibility it could help reduce anxiety/depression.
There is even some preliminary evidence that Boswellia compounds have anti-tumor effects, although much more research needs to be done.
Media headlines such as "Frankincense: Could it be a Cure for Cancer?" exaggerate the significance of these studies—which have been conducted on cultured cells/tissues, not living beings.
Boswellia extract is available in over-the-counter creams, tablets and capsules. An effective product is standardized for boswellic acids.
Side Effects and Drug Interactions
Side effects from using Boswellia extract are rare, but heartburn, diarrhea, skin rash and nausea have been occasionally reported.
There are no known drug interactions or contraindications with the use of the herb. Though Boswellia extract is an effective treatment for pain and inflammation, people who use it for arthritis, colitis or other conditions should continue to be monitored by a physician.
Where to Buy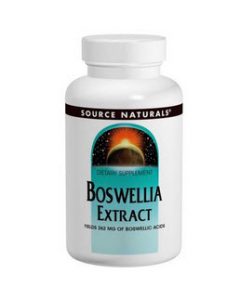 If you're interested in experimenting, you have a couple of options…
Boswellia capsules are affordable and readily available at iHerb.com, one of our recommended online retailers.
Topical creams are a good option to rub into sore muscles or arthritic areas – you can also find those at iHerb.com.
Specialized joint care products that contain boswellia as part of a more extensive formula are also worth investigating. As an example, check out Redd Remedies' Joint Health Advanced + Turmeric & Boswellia or Solgar's No 7 Joint Support & Comfort.
If you're not hung up on this ingredient and would like to try a quality anti-inflammatory/arthritis supplement that does not contain it in its formulation, have a look at Xtend-Life's Not Just Joints.
Other Natural Remedies for Arthritis & Joint Pain
If you're looking for potent, effective natural remedies for your aches and pains, I've recently started a new web site that is partially dedicated to them. At this time, you can read reviews for 14 different natural arthritis remedies by clicking here.
Let me know what you think!
Comments, Reviews, Feedback & Testimonials
Have you used boswellia? How did it work for you? Please share your comments just below! We'd love to hear from you!
Want to read the comments from our visitors? Just scroll down the page a little further… you're almost there!