NYC Health Dept. Keeps the Pressure On
Last year, New York City got some good news: childhood obesity rates dropped for the 2010 – 2011 school year. Although it's too soon to call it a trend, the fact that they fell at all was taken as a sign that the city's anti-obesity/health initiatives were having an impact.
Among those initiatives were some pretty hard-hitting ads from the New York City Health Department. The primary target of the department's "Pouring on the Pounds" campaign was sugary drinks; and I thought the ads were pretty effective (this one's my personal favorite). I guess I wasn't the only one to think so: the ads made national headlines and spurred a lawsuit from the American Beverage Association.
Undeterred, the NYC Health Department is rolling out a new campaign – this time, targeting portion sizes.
The Health Department today launched a new hard-hitting ad campaign urging New Yorkers to be more aware of portion sizes – and how they have increased – when choosing what to eat or drink. The quantity of food served in a "medium" or "large" order is significantly greater today than in previous years. In the last 50 years, for example, the serving sizes of sugary drinks quadrupled and french fries nearly tripled. With a few casual selections, a single meal could balloon to contain many more calories than the amount an adult needs for an entire day.

…Most adults only need to eat 2,000 calories per day, and children need even fewer. But with Americans eating out more often than they did 40 years ago, staying within these recommendations has become more difficult. A beverage at a fast food chain has increased fourfold since 1955, from 7 ounces to 32 ounces. During the same time, french fry portions have more than doubled, from 2.4 ounces to 5.4 ounces. As a result, recent studies show that one-third of New Yorkers eating at chain restaurants consume more than 1,000 calories at lunchtime alone.
The new subway ads are well-designed, if blunt. Here's a sample (click to enlarge):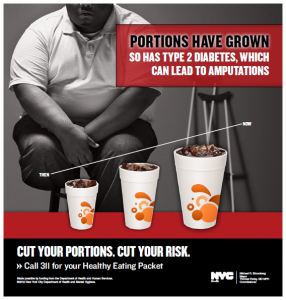 There are more here, in both English and Spanish.
Naturally, the American Beverage Association doesn't like these ads, either.
But the American Beverage Association, which represents sellers of sodas in cans and bottles and at fountains, countered that the health department was oversimplifying the connection between serving sizes and obesity.

"Portion control is indeed an important piece of the solution to obesity," said Stefan Friedman, a spokesman for the association. "But instead of utilizing scare tactics, the beverage industry is offering real solutions like smaller portioned containers and calorie labels that show the number of calories in the full container, right up front, to help people choose products and sizes that are right for them and their families."
Yeah, right. For the record, I'll take the NYC Health Department's "scare tactics" over the ABA's "real solutions" any day of the week. As "Food Politics" author Dr. Marion Nestle puts it: "The Health Department's campaign makes sense. Let's hope it helps."
Amen to that.